According to the Data and Marketing Association, businesses earn an average of $42 for every $1 spent on email marketing. I think we can all agree that's a fantastic return on investment. One of the ways email marketing drives business is by bringing in new customers. Today we're sharing some strategies specifically geared towards email marketing for customer acquisition.
Welcome Emails
You might think that customers will be put off if you seem overly eager, but open rates on welcome emails tend to be very high (82% on average).When a potential customer stops by your company or visits your website for the first time, you want to make sure you follow up with them ASAP. 
It's critical to get your foot in the door and establish a line of communication as soon as possible. Most email services include an option to automatically send an email when someone signs up online. 
Since the open rates on those welcome emails are quite high, take full advantage of that opportunity to give potential customers important information about who you are and what you have to offer them. A lot of companies include some sort of welcome discount or incentive to encourage people to place that first order.
Personalization
Everyone likes seeing their own name. Using the potential customer's name makes them feel like they matter to you and that they are getting individual attention. Set up emails to address the recipient directly instead of going for the generic, "Dear Valued Customer." 
Another reason to go for personalization is that it's easier to ignore emails that feel generic . When something is addressed directly to you, you're more likely to at least open it to take a look.
Build Rapport
The most important thing about emails aimed at gaining customers is not to make them "salesy." People do not like feeling pressured to buy products or services, especially if they are brand new to your company. Your initial emails with potential customers should always be aimed at building rapport and establishing a relationship. 
A good welcome email should make the customer feel good about themselves. We all want to feel like we are valued, important, and part of something bigger than ourselves. If you show that you're excited for your new subscribers to be there, they will also feel excited to be there. 
Offer Without Asking 
One of the best ways to build trust is to offer something without asking for anything in return. This might be a literal offer like a first-purchase discount, an exclusive referral code, or free shipping. Alternatively, it might be offering solutions for a common problem or sharing your knowledge of something you're an expert in. The important thing is that you are showing new customers the value you add and encouraging them to stick around.
Need some examples? Here are a few welcome email campaigns we think do a good job of personalization, building rapport, and offering without asking.
1. Uber: Your Free Uber Ride Is Waiting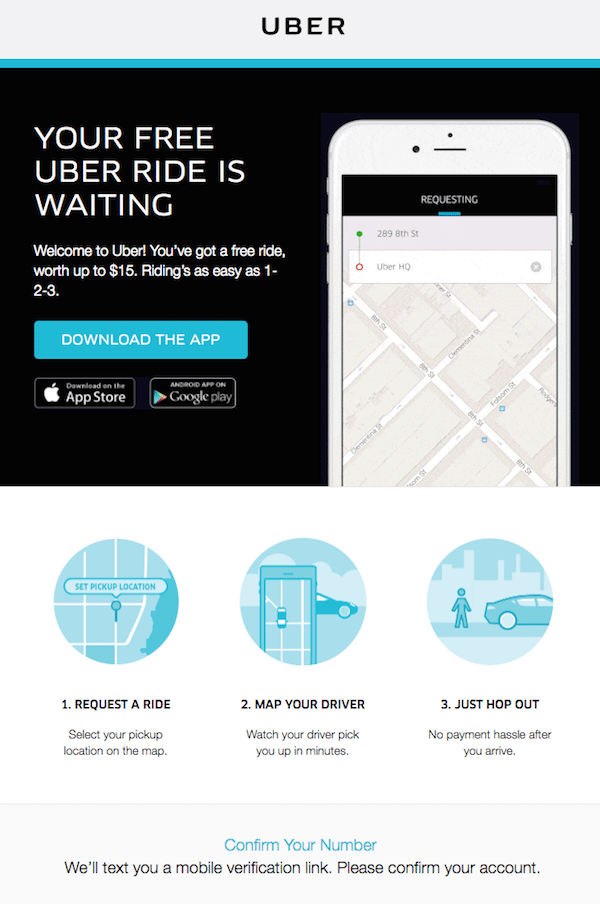 This welcome email from Uber starts off with an immediate offer of a free ride. It then includes all the information the customer needs to get started. It gives the recipient something for nothing both by offering the free ride and also helping them know what their next steps should be.
2. Canva: Design anything. Publish anywhere.
This campaign is great because it highlights everything Canva has to offer while making the customer feel good about themselves. "You have the power to create brilliant designs." Why, thank you! It also includes practical steps to get you started.
3. Glossier: We've Got a Good Feeling About This
This Glossier welcome email is short and sweet, but it manages to let customers know what to expect as well as inviting them to interact with the brand on Instagram. "See you on Instagram" makes customers feel like they are already a part of the party.
We hope these tips have been helpful for you as you think about using email marketing for client acquisition. As always, we're here at Den Web to help out with anything you need. Feel free to give us a shout!