When I think about creating web content that focuses on SEO performance, I think about choosing keywords, using the right language in the text, and including metadata. But what about images? Yoast SEO always recommends adding relevant images to your posts to improve SEO performance. Here's why.
Images are important for aesthetics, but they also serve a technical purpose. An interesting image appeals to the viewer and can help to break up a long text. More importantly, images include metadata that can help direct search engines to your website, especially when someone conducts an image search.
Where to Get Images
First, make sure you only post images you have permission to use. The most obvious way to ensure you have permission is to use an image you (or someone in your company) took yourself. If that's not possible, you have a few options.
Unsplash and Pexels are two sources for royalty-free photos. Both of these sites have a library of images contributed by different photographers that are available for download free of charge. All you have to do is type what you're looking for into the search bar and take your pick.
The downside to Unsplash and Pexels is that their image libraries are smaller than paid photo sites. If you are going to need a lot of images matching a wide variety of content, it might be best to subscribe to a download service like iStock which will give you access to a much larger array of choices.
How to Choose an Image
Thankfully, choosing an image isn't rocket science. You want something visually appealing that is cohesive with the overall look of your website, but most importantly, you want something that matches the topic and keyword or keyphrase you've chosen. (You can learn more about how to choose a good keyword here).
If possible, steer away from images that are too ambiguous. Here's a quick example. If you're posting a piece predicting that lemon yellow will be the "it" color for Fall/Winter 2021, you want to make sure your image really hits on the lemon yellow.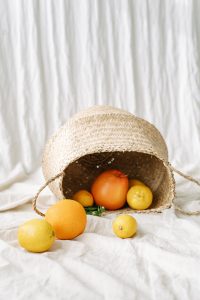 The image on the left does contain lemons, but if you wrote an alt text like, "lemon yellow is the color of the season," it wouldn't really match.  The second image is much more clearly about one specific thing – yellow lemons. The connection between the color of the fruit and the topic of the post is much more obvious.
Where Do I Add Metadata?
When it comes to SEO, the most important thing about adding an image on your site is the Alt Text. 
The caption and even the image name are far less important than you might think. The image name is a tool for you to be able to find the image easily in your media library – nobody will see this except for you. A caption is for the viewer's benefit, but it doesn't become part of the image the way the alt text does. The caption is like putting a sticker on top of a picture in a scrapbook. The alt text is like embedding a hidden picture inside of the image.
When you upload a photo to use on your website, you need to specify a precise and accurate alt text that includes the keyword you've chosen for that post. If you're working in WordPress, you can do this during the upload process. Once the thumbnail loads, simply go to the field labeled "alt text" and input appropriate text for the image.
Where Do I Place Images?
Besides using images throughout your text to illustrate a certain point, you should also consider using a "featured image." This is the image that will display as a thumbnail in a mobile Google search next to the title of the post.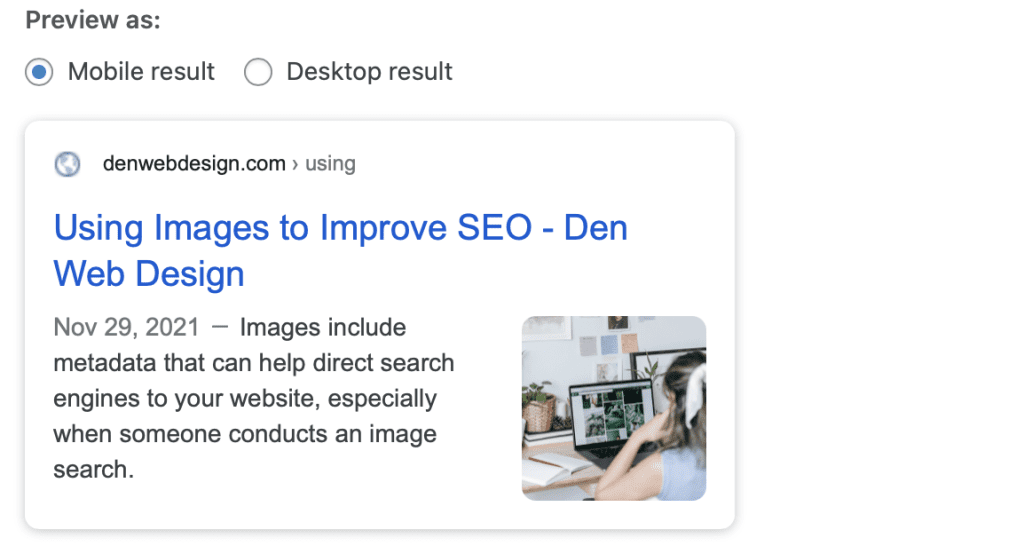 Depending on your site's layout, you might also use a header image that is specific to this post or page. (If you look through our blog, you'll see that we use this technique for our blog posts).
No matter what industry you're in, adding a few images is an easy way to boost your content and help improve your SEO ratings. The Yoast SEO plug-in makes it even easier to remember to include them since your SEO score will prompt you to add images and use your keywords in the alt text. 
Whether you use a paid service or simply upload your own photos, images are an easy way to improve your SEO score and make your posts more engaging.